5 in 1 Facial Cleanser & Beauty Care Massager
Rs. 249.00

Rs. 249.00

Save Rs. 350
Tax included.
Shipping
calculated at checkout.
---
---
Here is an easy to use massager that will leave your skin silky smooth, cleanse it, and give it the radiance that it deserves!
This is a must have home beauty care device for exfoliating tough skin, massaging eyes and cheeks, remove make up and acne, clear the scurf clings and anti aging with a better blood circulation.
It comes with a  full range of cleansing brushes and sponges, exfoliating pads and massaging head.
There are 5 attachments that come along with this cleanser-massager:
1) Soft Sponge Applicator which effectively rubs in any skin cream in rotational movements for equal application & penetration across the face, neck etc.
2) Soft Nylon Brush with fine bristles attachment that shall eliminate scurf clings (dry dead skin) from the surface of the skin.
3) Make-Up Sponge to massage & clean your skin.
4) Crude Polish Accessory that can be used to cut off the bits of tough skin wherever required and help your skin feeling tender & soft to touch.
5) 4-ball Rolling Wheel Massager that helps to increase the facial blood circulation to give it a glow and prevent the skin from aging.
To change any of the head accessories, just pull to take it out & then push back to plug it in.
The massager helps in removal of black spots & acne. The massager can also be used as a facial cleanser so that it can gently spread & cleanse the skin.
The skin benefits in the following ways as well:
Tones up the texture
The muscles get tightened and saggy skin gets lifted
The muscles underlying the neck get firmed up to give the face a dramatic lift
The skin will become more elastic & lithe
There are two speeds of rotation, high & low. Choose the one as per your skin or as per your need.
 There is a screw less battery cover that makes it easy to replace batteries. The massager works on 2 AA batteries. (Batteries not included in the package)
So go ahead, explore the radiance of your skin with this portable facial massager and flaunt your flawless skin! Others might not only admire it but also envy the charm!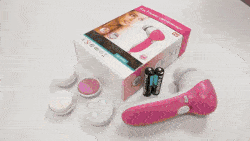 Payment Modes and Shipping:
Free Shipping!
Cash on Delivery Available.
We provide fast and smooth delivery through Premium Courier partners - FedEx, Delhivery, ExpressBees & Ecom Express. You will get regular tracking updates via SMS as well as email.
Delivery time:
Mumbai / Pune: 2 days | Other Metros: 2-4 days | Rest of India: 4-7 days